Miami Fitness Expo – Sat June 7, 2014
Time: 8:00am to 5:00pm
ProAm Games Miami Fitness Expo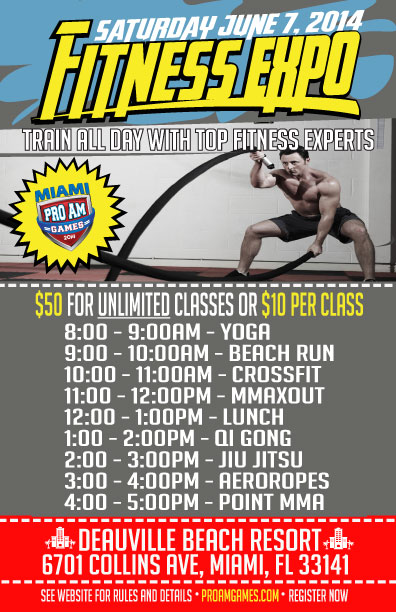 8:00am – Yoga with Wongi
Human Element
www.thehu.co
9:00am – Beach Run with Karma
Karma Athletes
www.karma-athletes.com
10:00am – Crossfit with Vidal
Crossfit Kingdom
www.crossfitkingdom.com
11:00am – MMAXOUT with Bruce "Fit Boss" Drogo
MMAXOUT Fitness
www.mmaxout.com
12:00pm – Lunch Break
1:00pm – Qi Gong with Dr. George Love
Blue Dragon Qi Gong Academy
www.bluedragonqigongacademy.com
2:00pm – Jiu Jitsu Self Defense with Master Phoenix Le Grand & Sensei J. Fields
Lost Legacy MMA
www.lostlegacysystems.com
3:00pm – Aeroropes with Lisa G
Aeroropes
www.aeroropes.com
4:00pm – Point MMA with Professor Willie "Bam" Johnson
Point MMA
www.pointmma.com
As adults we must lead by example, and show our children how important it is to live a healthy and positive life. What better way than to push yourself through a day of ­fitness training. Take an individual class or two, or sign up for the full day PRO AM FITNESS STAR pass and take all of the classes. FITNESS STARS that complete the whole day receive an awesome swag bag with gift and prizes.
Starting with Yoga, the morning session also includes a Beach Run, a Cross­fit class and a MMAXOUT class. After a lunch break, the afternoon session offers a Qi Gong lesson, a Jiu Jitsu Self Defense class, Aeroropes Battle Rope Training, and a high energy Point MMA class.
Take the FITNESS STAR challenge and become Better, Faster and Stronger!!!
More details on the Miami Fitness Expo coming soon…